| | | | | | | | | |
| --- | --- | --- | --- | --- | --- | --- | --- | --- |
| | | | | | 2 | | | 45 |
| | | | | X | 2 | | | |
| | | | X | X | X | | | |
| | | | X | X | 2 | | | |
| | | | X | | X | | | |
| | | X | | X | | | | 40 |
| | | | X | T | X | | | |
| | | X | | X | X | | | |
| | | | X | | | X | | |
| | | | | 2 | X | | | |
| | | | X | X | X | | | 35 |
| | | X | X | | X | X | | |
| | | X | X | | X | X | | |
| | 2 | X | | | | X | | |
| | X | X | | | | X | X | |
| | | X | X | | X | X | | 30 |
| | | X | X | T | X | X | | |
| | | X | X | X | X | | | |
| X | | | X | X | | | X | |
| | X | | X | X | | X | | |
| X | | | X | X | | | X | 25 |
| | | X | X | X | X | | | |
| | X | X | | | X | X | | |
| | X | X | | | X | X | | |
| | | X | X | X | X | | | |
| X | | | X | X | | | X | 20 |
| | | X | X | X | X | | | |
| | X | X | | | X | X | | |
| X | X | | | | | X | X | |
| X | | | X | X | | | X | |
| | | X | X | X | X | | | 15 |
| | X | X | | | X | X | | |
| | X | X | | | X | X | | |
| | | X | X | X | X | | | |
| X | | | X | X | | | X | |
| | | X | X | X | X | | | 10 |
| | X | X | | | X | X | | |
| | X | X | | | X | X | | |
| X | X | | | | | X | X | |
| X | | | X | X | | | X | |
| X | X | | | | | X | X | 5 |
| | X | X | | | X | X | | |
| | X | X | | | X | X | | |
| X | X | | | | | X | X | |
| X | | | X | X | | | X | 1 |
Fireside Cap
by Aaron Schwartzbard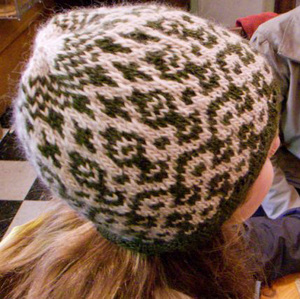 In August of 2009, I spent several weeks at the Fireside Inn in Breckenridge, Colorado. I designed and made this hat while staying there. I enjoyed my time at the Fireside Inn so much that I named the hat in honor of it.
This ends up being a very easy colorwork patter. Through the first 25 rounds, every round is either two stitches in the primary color, then two in the secondary color, or four in the primary followed by four in the secondary.
As of now, I've just knitted it once. So knit this at your own risk. I'd love to hear any feedback about errors, making the pattern more clear, or any other thoughts that could help refine this pattern for future knitters. Either PM me on Ravelry, or email me at aaron at vestigial dot org.
---
Yarn: Aran or heavy worsted weight
Gauge: 5 stitches per inch in stockinette (single color)
Needles: US 7 (or whatever gives you the correct gauge

The Brim: CO 98 sts in the primary color, and join. *k4, p3* until you have finished slightly less than an inch.

The Main Body: Knit an increase round as follows: *k7, M1*. Join in the contrast yarn to start knitting the chart. Switch to DPNs when the work will no longer fit on circular needles. There are 14 repeats of the pattern, so divide it between three DPNs with five, five and four repeats on the respective needles.

Finishing: After completing the chart, you should have 14 stitches on your needles. Knit one more round of k2tog, so you end up with seven. Break the yarn, pass the tail of the yarn through each of the stitches, then pass through each stitch one more time. Pull to the inside of the work, and pull tight. Weave in all ends, block the work (stretch it lightly as it is wet to even out the stitches—especially important in colorwork), and enjoy!

Sizing: The instructions above are written for 14 repeats of the pattern, but it is easily modified for 13 repeats, by casting on 91 stitches, or 15 repeats, by casting on 105 stitches, and following the rest of the instructions as written.


---
Reading The Chart:
| | |
| --- | --- |
| | k1, primary |
| X | k1, contrast |
| T | k2tog, primary |
| 2 | k2tog, contrast |
| &nbsp | Jump to next row on last repeat. |
| | That is, for every repeat other than the last one, knit the chart normally. On the last repeat of the round, move up a row. This is not absolutely necessary. However, ignoring the jumps will result in a noticable "seam" in the pattern. In case that is still unclear, below is a small chart illustrating how to treat the jumps on the last repeat in a round. The numbers refer to the stitches, in order. |