Quick & Easy Gratitude Hat
by Aaron Schwartzbard

This is a "thank you" hat I made for a friend. That's why it's a Gratitude Hat. It's also knit with a big gauge, and minimal skills are involved (knit, purl, k2tog). That's why it's Quick & Easy. (If you come across any errors in this pattern, or have thoughts about how to make it more clear, feel free to email me at aaron at vestigial dot org, or PM me on Ravelry.)

Needles: US 10 (or 9, if you're a loose knitter)
Yarn: worsted (two strands of worsted are held together through the project)
Gauge: 4st/inch (yarn held double)

Beginning: Hold two strands of different colored yarn together, and cast on 84 sts, and join. Knit the first round, purl the second round, knit the third round, purl the fourth round.

Main body: Knit around, continuing until you've gotten somewhere between 5.5 and 6 inches past the cast-on edge.

Top ridge: Drop one of the colors, and pick up a second strand of the main color (if you can find it, you can use the other end of the the ball you're currently using). For the remainder of the hat, you're knitting with two strands of the same color. Knit one round using two strands of the same color, then purl one round, knit another round, purl another round.

Decreases (repeat between the stars for the round):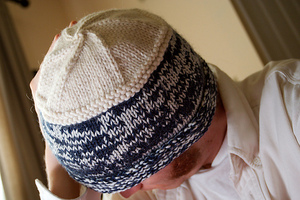 r1 - *k1*
r2 - *k12, k2tog*
r3 - *k1*
r4 - *k11, k2tog*
r5 - *k1*
r6 - *k10, k2tog*
r7 - *k1*
r8 - *k9, k2tog*
r9 - *k1*
r10 - *k8, k2tog*
r11 - *k1*
r12 - *k7, k2tog*
r13 - *k6, k2tog*
r14 - *k5, k2tog*
r15 - *k4, k2tog*
r16 - *k3, k2tog*
r17 - *k2, k2tog*
r18 - *k1, k2tog*
r19 - *k2tog*


If knitting on circular needles, switch to DPNs when you need to. There are six repeats of the "kX, k2tog" pattern around, so I'd suggest dividing between three needles, with a fourth needle for working. In the end, you should end up with 6sts.

Finishing: Pass both strands through the remaining 6 sts twice, pull to the inside of the work, and pull tight. Weave in all ends. Block the work, and fold up the garter ridging by the cast-on edge so that it dries folded up.